Description
A tan and black 1 piece hand thrown clay pottery saucerl like juicer.
Material
Pottery - Clay
Diameter
138 mm
Length
Height
51 mm
Weight
Maker
Old ballarat Pottery
Mary Walker No.
Not listed
Notes
Hand thrown
Potter's mark is an "O" and a "B" on opposites sides of a mine head.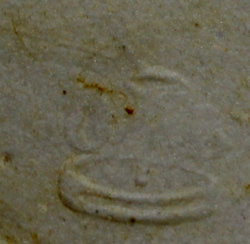 Old ballarat Pottery mark is an "O" and a "B" on opposites sides of a mine head