Description
Material
Glass - Jadite (green milk glass)
Diameter
148 mm (5⅞")
Length
208 mm
Height
73 mm
Weight
Maker
Not known
Mary Walker No.
Not listed. See N-329
Retail price
US$19.95

(Plus shipping)

Date
2017
Notes
Reproduction or modern version. This has a much thinner base than N329 and differs in many ways from the Australian version.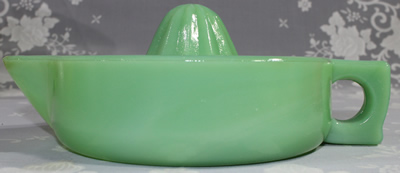 Side view of a modern jadeite glass 1 piece juicer