Description
A hand made primitive hinged wooden hand held squeezer. The shape is generally straight edged. The hinge is steel.
Material
Wood - with steel hinge
Diameter
Length
203 mm
Height
Weight
Maker
Not branded
Mary Walker No.
Not listed
Retail price
AU$4.49
Date
2012
Notes
"WOODEN LEMON".
Made in India. Purchased from an Patel Brothers Indian Supermarket at Wenworthville, a suburb of Sydney, Australia.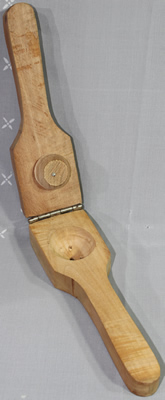 An open hinged "WOODEN LEMON" hand held squeezer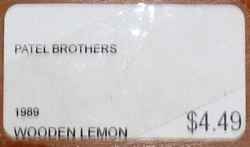 Bar code label on the hinged "WOODEN LEMON" hand held squeezer